Market Share increases to 46% in 2004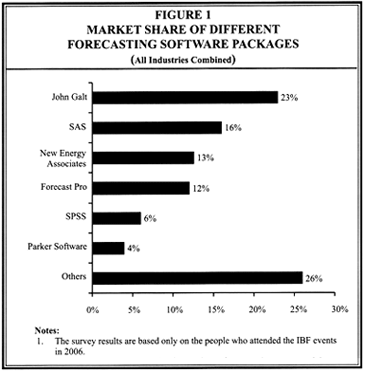 Chicago, IL., November 15, 2004- In 2004, John Galt was ranked number one in the forecasting software packages arena, claiming a significant share of the market in only 4 years. A recent article in the Fall 2004 issue of The Journal of Business Forecasting named John Galt's forecasting software as the most-used package in several categories including Automotive, Industrial Products, Retail, Services, and Telecommunications. With a 46% share John Galt is the current market leader and has a dominant position in the Consumer Products and Food and Beverages Industry.
John Galt Solutions, Inc., a privately held company, provides leading-edge solutions for the collaborative demand planning and forecasting market space. As the Forecast Xperts™, John Galt Solutions helps its customers implement intelligent planning solutions that combine cutting-edge tools with business driven forecasting and demand planning processes. We strive to improve your forecasting and demand planning processes through accurate, innovative solutions and customer partnerships. John Galt partners with its customers to deliver high quality supply and demand chain solutions and provide companies with a clear understanding of what their futures hold, preparing them to meet demand, plan effectively and collaborate with suppliers and customers over the Internet.
John Galt Solutions offers several different products. The ForecastX product family enables companies to streamline demand planning methodologies and web-collaboration processes throughout the enterprise. The ForecastX product line is designed to seamlessly integrate with existing systems to leverage current technologies, including supply chain software , expand capabilities and add functionality to current business processes.
The ForecastX Wizard defines your forecasting process , reduces your inventory costs, identifies your profitable promotional campaigns and helps you collaborate with your customers.
The ForecastX Atlas Planning Suite is made up of seven key applications that extend John Galt's capabilities to an enterprise scale including:
Additional Resources
About John Galt Solutions
Since its founding in 1996, John Galt Solutions has built a proven track record of providing affordable, automated forecasting and inventory management services for consumer-driven supply chains. We have an unmatched ability to configure tailored solutions for customers, regardless of size or business challenge, that save both time and money by compressing implementation periods and delivering intelligent information that positively impact your bottom line.
About the Atlas Planning Suite
John Galt's Atlas Planning Suite provides a comprehensive end-to-end supply chain planning solution to increase forecast accuracy, optimize inventory levels, and maximize supply chain performance. Key differentiators are superior value, rapid implementation, and the flexibility to support a wide range of business goals. Atlas' modular design and extensive configurability empower customers to quickly solve their immediate challenges and grow to an end-to-end solution as their process matures. Companies across many industries use Atlas daily to optimize their supply chains and increase profits.
About ForecastX
ForecastX makes detailed and accurate business forecasting easy. This affordable software from John Galt Solutions combines a powerful statistical forecasting engine with Microsoft Excel to give any business an effective blend of forecast accuracy, ease of use, and flexibility. ForecastX has become the cornerstone of thousands of successful demand planning processes all over the globe in a wide range of industries.
Tags: PR and News