Written By Jeff Marthins, Senior Business Consultant at John Galt Solutions
---
Ok, call me a traditionalist. I don't put ketchup on hot dogs, I drive on the right and pass on the left, and I don't wear socks with sandals. Also, I do not usually prepare for the holiday season until after Thanksgiving. I know that in the past, many retail stores would begin the Holiday season right after Halloween. But as everyone has stated before, "This is 2020. Nothing is as it used to be."
With Wal-Mart, Target, Best Buy, Kohl's, Dick's Sporting Goods, and many others announcing that they will be closed Thanksgiving for the first time in many years, how does this and other factors drive the holiday retail business? What does this do to historical data and demand planning/forecasting? When does the holiday season even begin? There are so many questions and uncertainties that most forecasters are left guessing to predict the impact on overall demand. Demand Planners, Forecasters, and Analysts are all trying to find their way down the 2020 holiday season path. What do we know going forward and how can we use the historical data?
Target has announced their holiday promotions will begin in October. Their rationale is to reduce crowds since holiday shopping brings lots of people to the store. Considering that this is no Thanksgiving and earlier start to the holiday season, this "stretches" the holiday season forward. Assuming that total sales are flat YOY, the same volume will now be "stretched" to begin in October. The example below shows the same sales YOY but stretched out starting from early October to the end of the year.

By the way the big retailers have announced their holiday plans, I believe this will shift historical demand forward.
Now, we need to add the e-commerce volume. This shift of focus from brick-and-mortar to ecommerce could also be driven by the consumer turning to the internet to avoid large crowds or, simply, due to the ease and convenience of online shopping. We know that e-commerce has grown by more than 30% in the first six months of 2020 based on analysis of U.S. Department of Commerce data*. I'm sure that with many places still with restrictions, brick-and-mortar will be affected. Amazon is gearing up for more inventory and waiving inventory sur-charges to make sure that inventory is ready to ship. Speaking of convenience, add that I can have gifts shipped directly to the recipients. No wrapping; no problem.
Let's now add small businesses. Small businesses have already taken a hit in sales. Those that have survived are doing what they can. Both smaller and local businesses have had their eyes on the consumer and building sentiment support to drive traffic. There is a true heart-felt desire to assist the small business. Also, there would be fewer crowds. At the time of year when everyone tries to have that feel good experience, I think that some consumers will shift their business to the struggling small business to purchase there even if it means paying a little more.
Can the consumer afford to spend what they did in the 2019 holiday season? The unemployment rate was over 10% in July according to the Bureau of Labor Statistics and consumer spending is down since March. But then again, consumers have spent less money on dining, entertainment and traveling due to restrictions. U.S. airlines have seen a dramatic 80% drop in travel and American Airlines announced that they may be facing layoffs.. Does that actually mean more disposable spending?
Considering all these factors we are still facing unprecedented levels of uncertainty. How do you solve the predictability? How can you paint the future picture of demand with confidence? When dealing with these uncertainties, I have two thoughts:
There is no longer an upper limit and lower limit to gauge the future
Regression Models
There are no longer upper and lower limits to your demand forecast. In the past, when running forecasts, we would include some upper and lower limits. However, this approach may need to be tweaked this holiday season.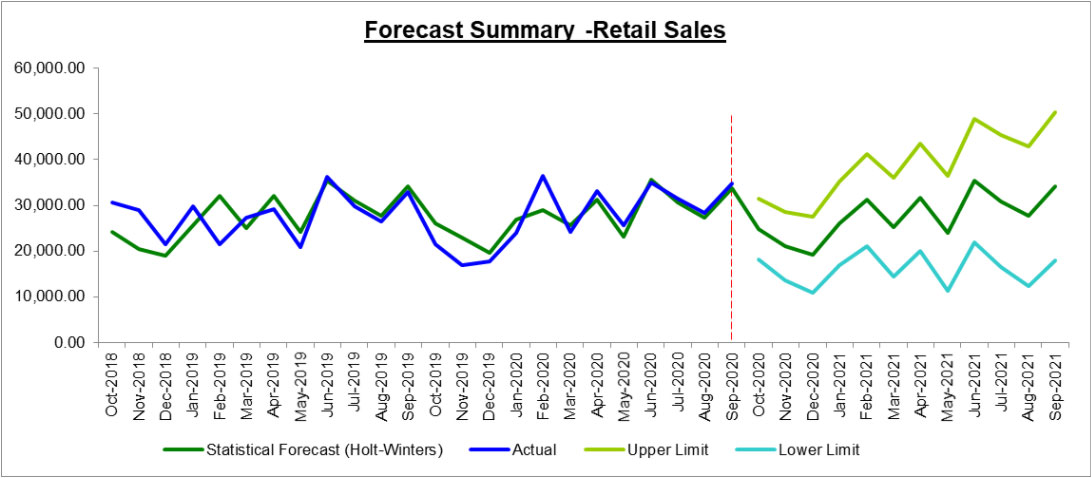 In the time of year when hurricanes arise, I am reminded of the spaghetti models that weather forecasters use to predict the path of the hurricane. Usually, as we plot these outputs on a graph, we begin to see where the most predictable models rely.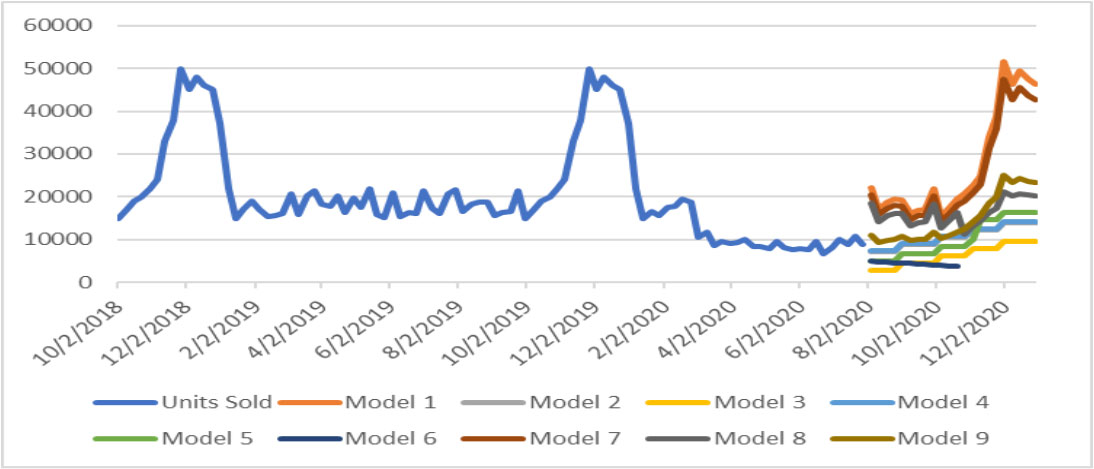 Using John Galt ForecastX Multiple regression modeling, you can see the spaghetti model effect on the units sold in a retail model. Doing this at an aggregate level, I took out the impact of ecommerce since the units sold would be purchased on a different channel. Now, going into a forecasting or planning meeting, you do not just have upper and lower limits, you clearly have some graphical representation of the forecast using a multiple regression model. This has helped many ForecastX users prepare for the holiday season in a year like no other in history.
In conclusion, I am not sure of what the holiday season holds. Like I said, it's 2020 and anything can happen. But will it? And will you be prepared for it? You can request more information here if you would like to see how ForecastX can help your company prepare for the holiday season in 2020 and beyond.
Tags: Blog Demand Planning Forecasting