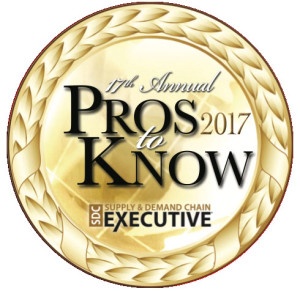 John Galt Solutions, a leading forecasting, demand and supply planning solution provider, today announced that Annemarie Omrod, President and CEO has been selected by Supply and Demand Chain Executive as a 2017 Pro to Know. Ms. Omrod was chosen for her leadership in the industry and the thousands of successful demand planning and supply chain planning solutions implemented across the globe by John Galt Solutions.
The Pros to Know Award recognizes supply chain executives, and enterprises that are leading initiatives to help prepare their companies' supply chains for the significant challenges of today's business climate. This year's list includes individuals who have helped their supply chain clients or the supply chain community at large prepare to meet these challenge.
Annemarie Omrod's extensive knowledge and experience in statistical forecasting and demand planning has been instrumental in the success of John Galt Salutions and its customers. Throughout her distinguished career as a founder of John Galt Solutions, she has presented at various industry events and authored several influential articles.
"It's exciting to be named as a top supply chain industry professional by such a respected publication," said Annemarie Omrod. "I look forward to helping more customers this year with their biggest supply chain challenges. We continue to broaden and deepen the capabilities of our Atlas Planning Suite with components such as Scenario Analysis and Capacity Planning that ensure success for our customers."
About John Galt Solutions
John Galt Solutions helps companies build effective demand and supply plans. John Galt offers tools and training to jumpstart your forecasting process. Once your forecasting process is defined, John Galt offers the solutions and education to build this forecast into a working demand and supply plan. Visit www.johngalt.com to learn more.