While Marketing and Sales managers are held responsible for demand-shaping, supply-side managers have two major roles to play: 1) supporting demand-shaping activities, such as new product launches and promotions with sufficient supply; and 2) working with Marketing and Sales departments to alleviate supply issues to improve corporate profitability—issues such as surpluses/shortages of inventories and underutilized/over-planned plant capacities. The second is what I term "demand-shaping with supply in mind." Generally demand shaping is the most important aspect of demand planning as incorporated into Sales and Marketing plans. A significant amount of demand-shaping should be done during cross-functional Sales and Operations Planning (S&OP) meetings
While demand-shaping and demand planning is the sole responsibility of Sales and Marketing managers, they primarily focus on maximizing revenue and market share because these are normally the corporate goals placed on them. Their performance reviews, pay raises, promotions, and job security are predicated upon meeting and exceeding these goals. Because of this, their decisions are often made without regard to supply chain impacts and corporate profitability.
However, even if demand-side manager goals were changed to maximizing profits instead, they would not be able to do "demand planning with profitability in mind" because companies are typically devoid of a good understanding of "true" customer profitability. Over the past few decades, companies have gotten a better understanding of sales channel and product-related profitability because Enterprise Resource Planning (ERP) systems do a decent job of tracking revenues and operating costs by these breakdowns. Customer-level profitability, however, is harder because most supply-demand activities support multiple customers, thereby making it difficult to identify the "true" costs-to-serve each individual customer. These costs are especially needed when demand planning and when negotiating discounts with customers, as well as when pricing services provided to a customer that are ancillary to products being sold.
EARLY CUSTOMER PROFITABILITY EXPERIENCE
While optimized demand-shaping and planning might be viewed as the sole purview of Sales and Marketing managers, they need help in developing an understanding of "true" customer profitability. Below, I briefly summarize an experience with this issue that took place early in my career. I then discuss the type of model that is needed to truly estimate customer profitability.
During my tenure in the Marketing department of a computer field service division, our Finance organization decided to conduct an analysis into the "true" profitability of our service customers. Finance knew that it would be a long and arduous process to analyze customer profitability; so it decided to pilot the concept by analyzing our largest customer.
This customer provided "first-call and remote-support" for its computer users and relied upon our division to follow-up with dispatched field service technicians. The customer was given large discounts to compensate for doing this first-line support. So key issues that needed to be addressed were how much of the discounts given to the customer were for the activities it performed, and how much were merely volume related. Our Finance department took an untold number of months of hard work to come up with a profitability estimate that eventually showed a loss on the customer. Executives dismissed it as a worthless exercise because they could never believe we were losing money on our biggest account. Finance immediately shut down any further analysis of customer profitability.
Personally, I suspect the analysis was reasonable, and probably correct in its conclusion. We were probably losing money on this and other customers, because rarely did anyone cost-justify negotiated discounts. For the most part, discounts were justified essentially on maintaining and enhancing revenues, in contrast to improving profits. Maximizing revenue was the primary goal of the Marketing and Sales departments of the division. Demand creation and shaping decisions were made in isolation by demand-side managers, without much regard to their implications on supply side operations. Since a joint supply-demand planning process—such as a Sales and Operations Planning (S&OP) process—was not in place, these demand-side activities often disrupted supply operations, making them less efficient.
"TRUE" CUSTOMER PROFITABILTY REQUIRED
While my experience above happened quite a while ago, I suspect companies are still trying to gauge "true" customer profitability. There are, for example, probably some suppliers that are losing money on their Walmart accounts, but would never want to address that fact. Yet having an analysis of "true" customer profitability would go a long way towards helping their Sales and Marketing managers make more profitable demand-shaping decisions during customer negotiations, as well as during S&OP meetings.
Figure 1 depicts a True Customer Profitability Model with the information needed to estimate profitability flowing from left to right. Customer Cost-to-Serve is the most important and hardest to estimate because accountants don't usually track costs at the detail level required. Many costs are tracked as aggregates, and breaking them down by customer is not an easy task; so estimation techniques need to be developed that utilize the data that are available from standard accounting systems. On the other hand, net revenues are relatively easier because customer-level data are readily available from Account Receivable records.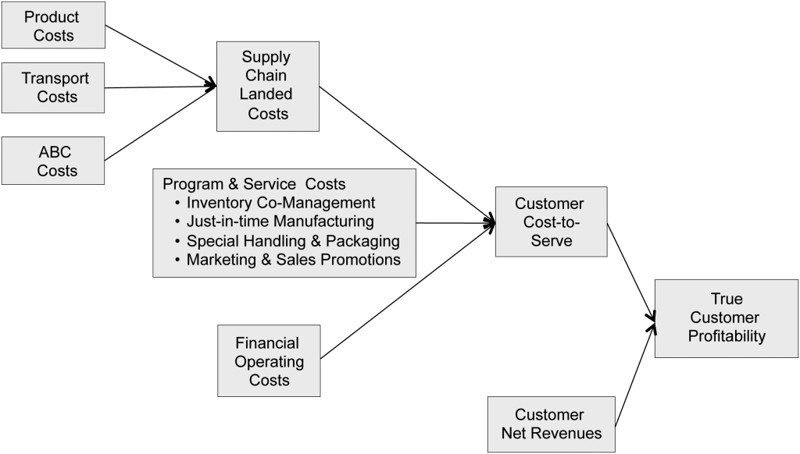 Moving from left to right in Figure 1 Supply Chain Landed Costs is the first of three components of Customer Cost-to-Serve that need to be estimated. Landed costs are detailed because they involve calculating the cost to get products delivered to a customer's location(s). They include the costs to source, make, transport, handle, store, and deliver products to a customer's door. Product Costs are the costs to source and make products, and these are usually tracked in standard-cost accounting systems that are part of ERP systems.
Transport Costs includes inbound, inter-facility, and customer delivery costs and are acquired easily from these systems, supplemented by data from Transportation Management Systems. However, these and the other types of costs are not necessarily tracked by customer. Activity Based Costing (ABC) methods have been developed to help estimate these types of costs. ABC methods are especially needed to breakdown various logistics costs such as warehouse receiving, storing, maintaining, picking, packing, and shipping goods to both internal and customer orders.
Cost-to-Serve also involves estimating a second component, Program & Service Costs. It needs to be estimated at the customer level, yet is not routinely tracked at that level in standard accounting systems. Customer programs might include supply chain programs such as Inventory Co-Management programs (e.g., Vendor Managed Inventory [VMI] and Collaborative Planning, Forecasting, and Replenishment [CPFR]), and Just-in-Time Manufacturing programs. Customer Service Costs include the costs incurred to do any special handling and packaging demanded by a customer. Marketing & Sales Promotion Costs include the costs of promotions, new product launches, and trade marketing and co-marketing programs. For example, the "true" cost of running a promotional campaign or a new product launch needs to incorporate any manufacturing costs incrementally incurred by additional plant setups and changeovers needed to support these programs, as well as any labor overtime costs needed to produce the huge amounts of product distributed in advance of a promotional campaign or product launch.
The third component of Customer Cost-to-Serve is Financial Operating Costs. This includes any financial capital costs incurred to carry inventories from before a customer shipment and until a customer payment is received. Other operating costs include those incurred by an Accounts Receivable department to invoice and collect payments as well. Customer Net Revenues are also needed for estimating True Customer Profitability.
These are based on customer invoices that reflect the various discounts given to a customer during sales negotiations. In addition, however, some customers take advantage of discounts for early payment, and this too should be applied in deriving Net Revenues.
The True Customer Profitability Model described above, while complicated to implement, provides a clearer view of customer profitability than what can be gleaned from standard accounting systems. While it may take a significant amount of time and resources to implement, the model can be the underlying basis for a demand-planning decision support system that is needed by demand-side managers to make more profitable decisions. Implementing a system of this sort will help your company maximize profits garnered; in contrast to just maximizing revenues, while potentially not taking full advantage of all profit opportunities!
This article was first published in the Journal of Business Forecasting Winter 2013-2014.