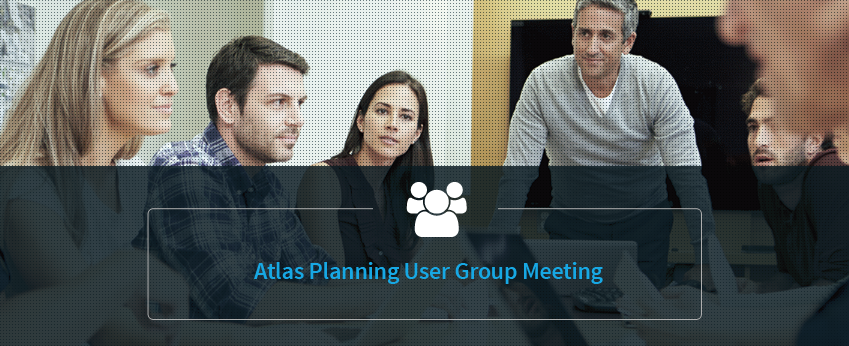 Atlas Planning User Group Regional Meeting - California/West Coast
Date: Tuesday, February 16, 2016
(PAST EVENT)


Region: California / West Coast
Time: 9:00 am - 4:00 pm PST
Place: San Jose, CA
NETGEAR HQ
350 E. Plumeria Drive
San Jose, CA 95134

To ensure you maximize the value you are getting from your Atlas Planning Suite system, we are offering a Regional User Group for John Galt customers. At this User Group, we will provide some specific education and training sessions on Atlas, as well as interactive discussions that will engage attendees. Join this User Group for great new content and to network with Atlas user peers and John Galt Xperts.
Topics at this User Group:
Forecastability Analysis Mechanics
In order to make your planning process as efficient and accurate as possible, you need to understand the Forecastability Analysis process and what it can do for you. This session looks into how Forecastability Analysis works and the results you can expect. Walk through examples with real data.
Inventory Management
In this session we will walk through how to proactively plan and manage your inventory through the supply chain with the Atlas Planning Suite. You will learn how to apply best practice techniques to minimize stock outs, eliminate unnecessary transportation costs and maintain a balanced inventory.
Rough Cut Capacity Planning
To meet production requirements, manufacturers must balance the limitations of their equipment against the needs of customer demand. Equipment, time constraints, and personnel limitations combine to limit the maximum capacity of any production environment. In this session, learn the details of Atlas Planning Suite's Rough Cut Capacity Planning module. See how resources are scheduled and understand which items fall within and outside of capacity.
Interactive Discussion
Interact with John Galt Xperts as well as other Atlas users. Gain new perspectives on your process and understand how others are solving real-world supply chain planning problems.
Product Documentation & Feedback
Give us your feedback on what types of documentation you need, whether that is for certain Atlas modules, administration functions, consulting services, or anything else. Also give us your feedback on the tool and the features you would most like to see in upcoming versions.